Rapid Micro Biosystems (RMB) will be exhibiting at the 14th Annual PDA Global Conference on Pharmaceutical Microbiology October 21 - 23, in Rockville, MD.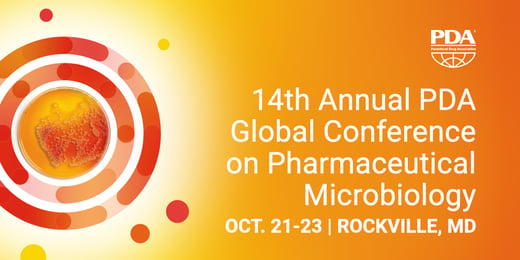 The conference meets the unique needs of pharmaceutical microbiologists and interdisciplinary scientists who are involved in pharmaceutical manufacturing and regulation. It will feature topics which will solve highly complex problems and develop novel, compliant, and robust solutions to ensure products are of the highest quality for patients. The program will bring together industry, academic, and regulatory professionals at all levels to share best practices and discuss the current trends in the field of pharmaceutical microbiology.
Come visit our booth (#114) to learn how Rapid Micro Biosystems Growth Direct™ can add tremendous value to your organization. Growth Direct is the first and only growth-based system to automate a rapid compendial QC Micro test for the Pharmaceutical Industry. Also, by detecting potential contamination 50% faster than traditional compendial methods, the Growth Direct ensures a higher standard in the following critical areas:
Enhanced Data Integrity and Compliance
Increased Operational Efficiencies driven by Rapid Methods and Automation
Higher Quality Products for Improved Patient Outcomes
If you would like to see a demonstration of the Growth Direct, please visit our booth at the following times:
Monday and Tuesday during lunch and 3:45 – 4:30 PM
Additionally, we will be presenting our posters which will further demonstrate the value of the Growth Direct:
Monday and Tuesday – Exhibit Hall
Poster Presentation – "Capsule Contamination Analysis using Rapid, Automated Microbiology Detection System"- Courtney Russell, Marketing Applications Specialist
Poster Presentation – "Reducing the Risk of Manual QC Microbiology with a Rapid, Automated Microbiology Detection System" – Kham Nguyen, Director of Global Validations
---
On Monday, October 21st, Rapid Micro Biosystems will be hosting a special dinner. We are delighted to invite our customers and PDA conference attendees interested in learning more about rapid microbial detection methods to attend and enjoy an outstanding menu offering and selected wines.
You will have a chance to speak with the Rapid Micro Biosystems Leadership Team and customers who are leveraging the industry's most advanced rapid microbial detection system in their facilities.
Space is limited. Please reach out by email to Courtney Makolandra to confirm your dinner registration.
---
If you are unable to join us at this event but would like to learn more about Growth Direct, please download the RMB brochure here or contact us here!