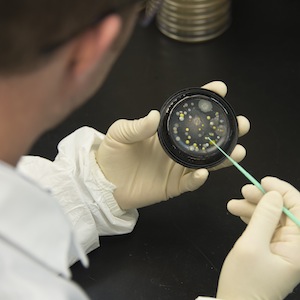 A wide range of rapid microbiological methods (RMM) are now available to replace the century-old compendial method for colony counting, but not all are alike. Some are alternative methods and involve new processes for sample preparation, detection and reporting, as well as destroying the samples to achieve the rapid results. Others simply automate and streamline the traditional method for faster, more reliable results while preserving the sample for further testing. While many alternative technologies can provide rapid results, they often must destroy the samples to achieve the result.
Growth-based technologies such as the Growth Direct™ System automate the incubation, enumeration and reporting of colonies without destroying the sample. The following are five benefits of such non-destructive RMM technologies in the pharmaceutical quality control environment.
1. Available for Microorganism IDs
Rapid results allow manufacturers to ship products more quickly, but in the event of a problem sample, pharmaceutical manufacturers must perform an identification of the microorganism and a root cause analysis. With certain types of rapid methods, this may require a time consuming re-culture to grow colonies that then can be taken for identification. As a result rapid destructive tests could lead to more work and more time spent preparing samples for microorganism identifications.
Fortunately, non-destructive tests make these additional tests – and any necessary investigations – far more efficient. Because the Growth DirectTM System continuously incubates a sample, when an out out-of-specification level occurs, microbiologists can opt to leave the sample for further incubation or output the cassette of interest for further examination without the need for re-cultures.
2. Pinpointing Problem Areas
Shortening the time to perform identification also allows microbiologists to more rapidly pinpoint the root cause and take corrective actions, targeting personnel gowning, HVAC, water source, raw materials, etc.. If the problem turns out to be common outdoor microorganisms, for example, then there may be a problem with workers' gowning procedures. On the other hand, if an organism is identified as common to certain water samples, products or production environments, corrective actions can be taken in those specific areas of a facility.
3. Accounting for All the Costs
While alternative methods will save testing time, they can potentially cost manufacturers time and resources during follow-up procedures. When considering rapid methods, the time savings is just one benefit. It's important to consider the cost of a problem. If a problem sample is identified, time must be taken for re-culture before identification can be performed. A growth-based, non-destructive method may not be the most rapid, but it shortens the time to identification and investigation, while providing results in about half the time of the traditional test – the best of both worlds!
4. Results in Colony Forming Units
Alternative technologies often report results in units other than the traditional colony-forming units (CFUs). This requires additional steps in validation to equate the alternative method back to CFUs. On the other hand, automated, non-destructive technologies such as the Growth DirectTM System reports in CFUs just like the traditional method. These results allow microbiologists to operate using known measurements when observing trends, intervening only when they are alerted to out-of-specification samples. Plus, the reporting of results in CFUs can simplify validation steps.
To learn more about the benefits of rapid, non-destructive microbial enumeration, download our free guide.