More and more manufacturing facilities and labs are taking advantage of the benefits offered by automated microbial quality control (QC).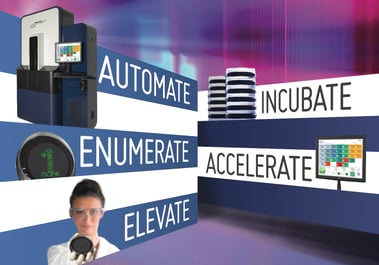 Today, manufacturing facilities face greater demand for increased production capacity. That means the microbiology QC lab must increase test volumes but still achieve reliable results and compliant documentation. All with limited resources.
To complicate matters even more, the current manual compendial testing method has many drawbacks: it produces slow results, is prone to human error, and is vulnerable to tampering and poor compliance.
The impact can be costly to your brand and bottom line: massive inefficiency, increased er­rors, and lost time.
Here are six ways that automated microbial QC can empower your lab with the power of automation.
1. Makes your lab more efficient
The current compendial method for counting cultures is labor-intensive and error-prone. Automating microbial QC automatically reduces hands-on labor, and frees up personnel to perform other important duties.
2. Delivers faster test results
Automated microbial QC provides timely, consistent, non-destructive enumeration of colonies and faster results than traditional culture counting. Final results are often produced within hours and in about half the time of the compendial method.
3. Helps ensure fewer errors
Automated microbial QC all but eliminates human errors due to misplaced or mislabeled plates and to miscounts.
4. Ensures data integrity and maintains physical security
Automated microbial QC maintains accurate, complete, and trustworthy data records within their original context. An automated microbial QC system records data in a permanent form that's easily accessible for the lifetime of the record. It also automates reporting and eliminates the risk of manual data entry errors.
Another important benefit of automated microbial QC: it's compliant with 21 CFR 11 guidance. Password-protected software helps optimize data security and approval. Plus, automated microbial QC securely protects data against willful or acciden­tal loss, damage, or unauthorized changes.
5. Integrates seamlessly into your LIMS
Even with a sophisticated LIMS, manual microbial detection requires technicians to record the results of each sample. When integrated into your LIMS or EM tracking software, automated microbial QC allows near real-time trending review. This helps improve the maintenance of a controlled environment. It also accelerates the availability of sample data to other interested departments with rapid coordination of EM trending and facilitates the paperless lab.
6. Provides consistent quality at any scale
Automated microbial QC helps ensure a standardized QC microbial testing process that produces consistent quality, accuracy, security, and reliability – with the scalability to meet your needs throughout your operation.
Interested in how automated microbial QC can help empower your manufacturing facility or lab with the power of automation? Contact the specialists: Rapid Micro Biosystems.