Microbiologists sometimes find themselves in a double-bind between speeding vaccines and other life-saving drugs to market and ensuring those products are safe. In an attempt to find a balance, many QC laboratories are foregoing traditional methods of microbial detection, which can require several days to provide results, for rapid, growth-based methods that reduce time to result while ensuring accuracy.
The chart below illustrates the degree to which automated, growth-based methods can offer faster time to results.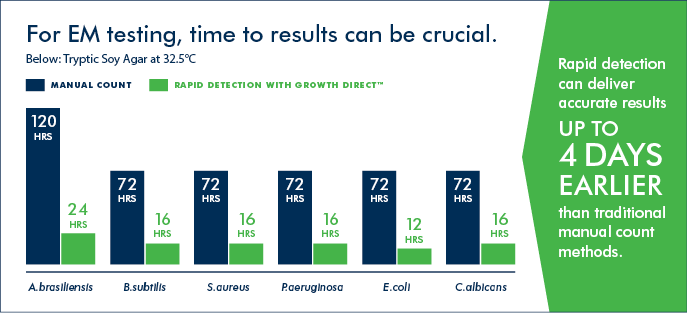 You can see that some growth-based methods can deliver accurate results up to four days earlier than manual count methods, but this is on average. Not all growth-based technologies provide the same speed and/or accuracy because of the way they approach testing. Some require that the cells be destroyed, which makes it impossible to perform an ID on the sample if an action level is exceeded. Others may require additional steps outside of normal processes that can impact the labor needed for testing.
The Benefits of Automated Growth-Based Technologies
Methods that automate the testing process, such as our Growth Direct™ system, do not require reagents or unique sample preparation techniques. This greatly reduces the number of necessary steps as well as the chance of human error, tampering, and poor compliance, so microbiology teams and quality departments can achieve consistently reliable results in half the time.
To learn more about how growth-based RMM speed up microbiological tests, check out this resource on non-destructive enumeration or read our follow-up post Benefits and Strategies for Automating Growth-Based Microbial Detection.
Contact us directly if you have specific questions about automating Microbial Contamination Detection with our Growth Direct™ system.
---
To learn more about Growth Direct™, please visit here.
To speak with someone about how Rapid Micro Biosystems can help your company, please contact us here.