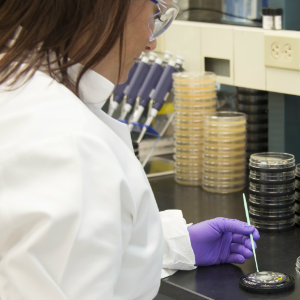 In the last edition of the frequently-asked-questions series, we discussed some of the top questions Rapid Micro Biosystems receives regarding our Growth DirectTM System. However, with sophisticated technologies such as those utilizing the rapid microbial method (RMM), there are always additional questions to address—especially when you need to build a business case for purchasing such a system.
Like any industry, in order to thrive in an increasingly competitive economy, quantifying the benefits of products and solutions is becoming more vital. For microbiologists specifically, being able to achieve maximum efficiency by streamlining testing procedures puts you well on your way to demonstrating the value of RMM.
Stay tuned as we delve into specific questions regarding the water and bioburden testing application of the Growth Direct SystemTM .
Q: How does the Growth DirectTM System get the same results as the traditional method?
The Growth DirectTM System for water and bioburden testing is not an alternative method, but rather an automated version of the existing method, analyzing the natural autofluorescence of growing cells and tracking growth over time. The test reports in colony forming units, and can integrate into laboratory information management systems (LIMS). Sample preparation mirrors the existing filtration method.
Q: Is actionable reporting available?
Yes. Configurable action and alert limits provide the lab with updates when samples are out of the configured specification allowing faster response to potential contamination events. Alerts can be sent via email.
Q: What is the expected throughput?
While this can vary based on the length of the test and incubation strategy, for the average seven-day water test, the equipment can process on average 175 samples per day, every day.
Q: How difficult is the validation process?
Because the Growth DirectTM System is considered an "automated compendial" test, accuracy and precision testing are generally the only validation criteria required, streamlining the validation process.
Q: I have an odd sample that cannot filter; will it work on the Growth DirectTM System?
In many instances, techniques have been uncovered to filter products that usually cannot be filtered. Rapid Micro Biosystems' feasibility team can perform a study on your product to determine if it can be used on the Growth DirectTM System.
Q: What is the time to results for water and bioburden tests?
The Growth DirectTM System uncovers positive results within hours of testing and provides final results in about half the time of a traditional test. Results are provided in colony forming units (CFUs).
No matter how you look at RMM or quality control testing procedures, the pharmaceutical industry is becoming more and more challenging to thrive in. In order to compensate for inefficiencies, quality control laboratories must adopt lean principles and methods that are not only beneficial to their processes but also to their bottom line. With the Growth DirectTM System, microbiologists and QC labs can benefit from automated rapid detection and enumeration and overall improved efficiency.
Don't miss the next edition of this series as we discuss the FAQs regarding environmental monitoring processes. Subscribe to our blog today to have it delivered directly to your inbox.