Biogen presented a poster, Implementation of the Growth Direct™ System: Driving for Greater Accuracy, Speed, and Efficiency in Microbial Enumeration, during the 12th Annual Parenteral Drug Association (PDA) Conference on Pharmaceutical Microbiology.
To download the poster Implementation of the Growth Direct™ System: Driving for Greater Accuracy, Speed, and Efficiency in Microbial Enumeration, click here.

To meet the demand for faster and more accurate results, Rapid Micro Biosystems (RMB) developed the Growth Direct System, which enables rapid, automated, and precise measurement of microbial colonies.
The poster describes the process Biogen followed to implement the Growth Direct system for automated plate reading in their QC microbiology lab.
Biogen's compendial bioburden testing is incubation on TSA media for 72 hours and environmental monitoring (EM) for five days. Plates are manually counted, entered into their LIMS system, and reviewed.
The goal is for Growth Direct to be Biogen's primary colony-counting method for all plate-based assays globally.
Benefits of Growth Direct
Growth Direct cuts in half bioburden and EM incubation, automatically counts colonies every four hours, migrates results to LIMS electronically, and allows for the review of plates that have growth (review by exception).
Growth Direct also improves data integrity by eliminating error-prone manual plate counting, data entry, and data review.
The results: greater efficiency and cost savings, and reduced time to result for both bioburden and EM.
Biogen's path to implementation
Biogen performed feasibility testing and executed a validation plan where Growth Direct had to meet specific requirements. Biogen then completed installation and operational qualification testing (IOQ), a performance qualification, a supplemental IOQ, and compendial verification and suitability testing. The suitability testing for in-process bioburden confirmed that Growth Direct can count organisms growing in their product matrix within 36 hours, which is half the time of their compendial method. Both the validation and suitability testing met all acceptance criteria.
PQ validation results
Fig. 1 verifies the accuracy of the Growth Direct software for enumerating colonies compared to the mean of three analysts counting the colonies on the same test plate. An excellent agreement is shown verifying the accuracy of the system.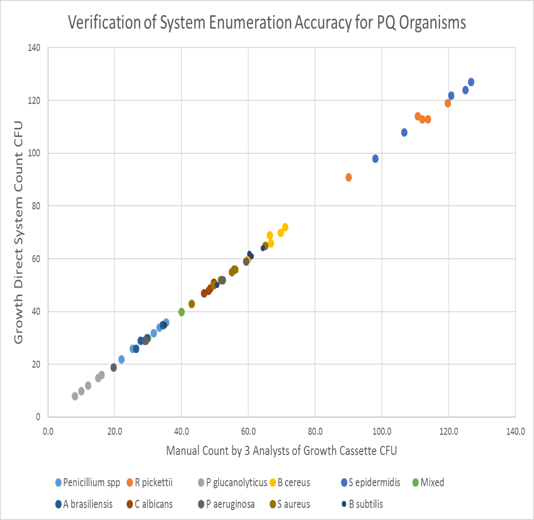 Fig. 2 shows the microbial colony detection curves, with cumulative CFU plotted against detection time. For the majority of the organisms tested, all colonies had been detected in less than 36hrs as evidenced by the plateau of counts.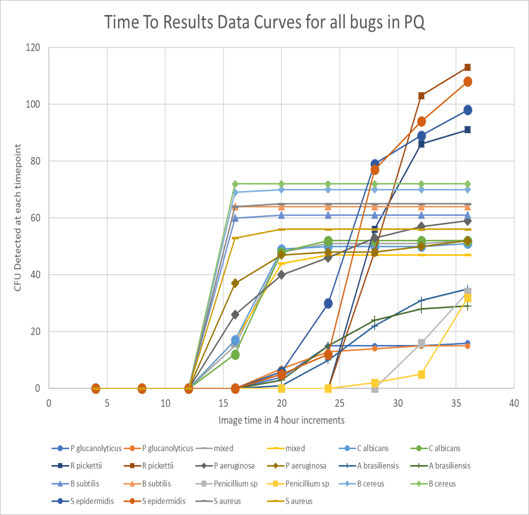 Conclusion
Biogen is in the process of implementing Growth Direct for all microbial enumeration assays (critical in-process tests, water, bioburden, and EM). The system will also be qualified for drug substance TYMC SDA plate reading.
After successful implementation of the Growth Direct System at Biogen Research Triangle Park in North Carolina, it will be implemented at other Biogen sites globally.
Learn how Growth Direct can help improve accuracy, speed, and efficiency in microbial enumeration for your facility.