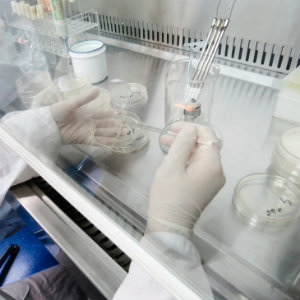 Rapid microbial testing methods have great potential for increasing efficiency and reducing costs, but many companies are still trying to understand the value of adding rapid methods to their labs. If you're still on the fence about using rapid methods, Pharma Manufacturing's Rapid and Alternative Microbial Testing Methods presentation may help. In it, Kevin Jensen, Director of Laboratory Operations at Nelson Laboratories, discusses the different test platforms and benefits of adding rapid methods to your lab, as well as some of the key actions to take when considering a new method.
"I get a lot of questions from [customers] that say, 'What's the best rapid type or rapid method for what we're doing?'" starts Jensen, an expert in rapid test method implementation who manages testing for bioburden, product sterility and more. He notes that because each method offers something different, "It comes down to what you need for your product and for your data."
In his presentation, he gives a quick overview of six platforms: optical spectroscopy, growth-based, cellular component-based, viability based, amplification of nucleic acids and MEMS. For each platform, he provides:
A general explanation of how it works
Whether real-time results are available, and
The test type (qualitative, quantitative, and/or identification)
Growth-Based Benefits
Though he's clear on his message that the right test method for a system must be decided on a product-by-product basis, he explains he's partial to the growth-based systems, which detect increases in the population of the organisms present. He notes, "…they do seem very popular in the market. I'm partial to them because, being a microbiologist, they're very close to the compendial method in a lot of ways. Typically the compendial methods are growth-based and we're just waiting to be able to see them with the naked eye. These systems basically allow us to see the microorganisms quicker than we could with the naked eye, so therefore they cut the time down."
Manufacturers should be aware results are not always apples-to-apples when switching from compendial methods to potentially more sensitive rapid methods, but he explains these results are justifiable to regulatory bodies and they should not be a source of concern.
Shiny New Toy Syndrome
Jensen cautions about an issue he calls "Shiny New Toy Syndrome," in which people automatically assume a new platform is the be-all and end-all solution to their problems. To combat this, he advises manufacturers to define their real needs, in order to help zero in on the right platform for their specific application.
Next Steps…
He encourages manufacturers to do their homework once they've defined their needs, and says this is about a lot more than reading, though reading is critical. He recommends asking a lot of questions, attending conferences and talking to other manufacturers. "There are companies that have validated these that are willing to talk about what they did," he says, adding that they may be willing to come talk to you or invite you to visit their site to see the equipment in action. He also emphasizes the importance of ensuring vendors prove their claims before making a final decision.
Regulatory Agencies
A source of nervousness for companies thinking about implementing a rapid method is whether the FDA will accept the change. "Groups like the FDA and others are actually excited to help companies try and implement rapid and alternative methods. That doesn't mean they're gonna just give everybody a pass… but they are excited to try and help them," he notes, adding that there have been some great press releases and information on the subject from regulatory bodies recently. His advice? Start early. It's best to talk with regulatory bodies about your plans and what their expectations are before purchasing equipment, and to continue that dialogue throughout the implementation process.
In closing, Jensen brings up several important details to consider in order to help you determine your ROI when implementing a rapid method. His presentation concludes with links to more in-depth information on test platforms, as well as contact information for further questions. To view his presentation, click here. To discover the power of automated, growth-based RMM, view our SlideShare here.