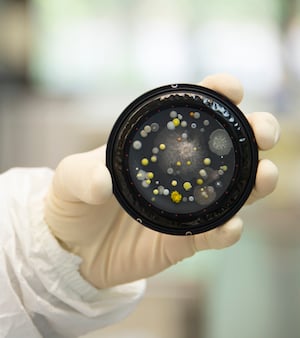 One of the milestones in the validation of a rapid method is proving equivalence of the new method against the traditional test. Various studies are required and in the case of the Growth DirectTM System for environmental monitoring, one study is the comparison of the Growth DirectTM Cassette to traditional media.
Join Dawn McIver, president of MicroWorks, Inc., on June 26 at 11:00 a.m. (EST), as she discusses the study she performed comparing the Growth DirectTM System's environmental monitoring cassettes to conventional media for environmental monitoring.
Traditional Environmental Monitoring Testing
Environmental monitoring is an integral part of the overall microbial testing performed in pharmaceutical manufacturing. The traditional testing method includes the use of standard contact plates and media. Samples are captured, the contact plate incubated and the number of colony forming units (CFUs) reported. While a time-tested technique, the compendial test is time consuming and open to potential errors in tasks such as counting and/or recording of results. Because of the high volume of tests performed, it is a natural candidate for automation.
The Growth DirectTM System
Enter the Growth DirectTM System, an automated rapid microbiological method. Designed to improve microbial testing efficiency, the technology can deliver the results QC labs are required to provide in about half the time and can integrate to laboratory information management systems (LIMS).
The Growth DirectTM System automates the incubation, enumeration and reporting of samples. In the case of environmental monitoring, the system can test a high volume of samples—driving efficiency and effectiveness within the QC lab.
Interested in learning more? Spots for the live webinar June 26 at 11:00 a.m. (EST) are limited, so reserve yours today.