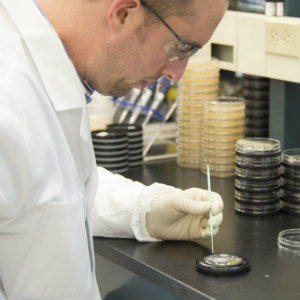 If you work in microbial quality control (QC) for your company, performing tests including water, bioburden, sterility and environmental monitoring, you don't have to be told these tests are time consuming and not always the most efficient use of your skills. Yet, for most pharmaceutical manufacturers, it is still the standard process for QC laboratories.
As the speed of business increases, time becomes money for everyone. That's why is it crucial to invest in technologies that are effective and efficient.
The Growth DirectTM System, an automated rapid microbial method (RMM), is designed to accelerate the microbial testing process by automating the incubation, detection, enumeration and reporting of samples, improving efficiencies and potentially reducing investigations brought on by manual errors—just to name a few key benefits.
However, building a solid business case for purchasing an RMM system is sometimes a challenge. Furthermore, stakeholders often have specific questions regarding the various technologies and systems available.
The following is the first installment of our FAQ series, which will cover key questions we often receive regarding the Growth DirectTM System.
Q: Does the Growth DirectTM System produce the same results as the traditional method? If so, how?
Yes. The technology is designed to mimic the compendial method. The method is growth based, with similar sample preparation and reporting in colony forming units (CFUs). Because, the method uses the natural autofluorescence of growing cells to track growth over time, colonies are preserved and available for identification.
Also noteworthy is the time to results. A positive result can be available within hours and a final result in about half the time as the compendial method. Between the rapid result and automation of the manual processes, significant time is saved for the lab. Imagine what QC labs could do with that time.
Q: What type of system monitoring is available?
The Growth DirectTM System is an automated system that includes two incubators. The system monitors the internal operations of both incubators including temperature, humidity and capacity, as well as incoming and outgoing samples. It also provides configurable action and alert levels. By automating the process (i.e., moving samples to the appropriate temperature when necessary, imaging, reporting, etc.) microbiologists can allocate their time to other high priority tasks. The configurable action and alert limits allow microbiologists to focus only on samples of interest. Cassettes that are within specification can be handled according to the lab SOPs.
Q: How does a user interact with the system, and does sample preparation have to change?
Sample preparation mirrors the existing methods, so there is no need for significant additional training. Once samples are prepared, technicians bring them to the system where the technician interacts with an intuitive touch screen for ease of use. At any time, microbiologists can view details on a particular sample or method. There is very little change for the users, other than the simplification of work.
Q: How large is the system?
The system is comparable in size to a floor-standing incubator or a typical -80ºC freezer. The approximate measurements are 55 in. wide by 37 in. deep and 94 in. tall. Because it is self-contained, the system does not need to be placed in the lab.
Q: What kind of services and support are available?
Ongoing support is critical to the success of any rapid microbial method. Rapid Micro Biosystems provides multiple levels of support for installation, validation, application, preventative maintenance and service. We are here to ensure a successful installation, validation, and transition to routine use with ongoing support.
Save Time, Increase Productivity
The compendial method is time-tested, but manual and error prone. Rapid methods help streamline the testing process. There are several technologies on the market using different methods to uncover a rapid result. The Growth DirectTM System is a method that closely aligns to the existing test, but automates and accelerates the process.
If you have questions about the Growth DirectTM System not answered here, please contact us today. To learn more about automating microbial testing, check out our video here.