For more than a century, microbial quality control has been a manual process of counting cultures and
transcribing data to secondary data systems. This process is prone to errors that can compromise the integrity of results and the security of both data and samples.
By removing manual labor, and the inevitable human error, automated testing with the Growth DirectTM System maximizes data integrity, data security, plus sample security.
Data integrity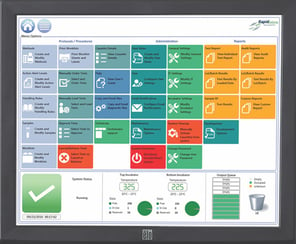 Growth Direct optimizes data integrity in four key ways:
First and foremost, it ensures accurate, consistent detection and counting of colonies.

Second, it enables identification of flagged colonies without the need to re-culture.

Third, the risk of manual data entry errors is eliminated – Growth Direct automates reporting. Integration to laboratory information management systems (LIMS) ensures no errors in the capture of test results.

Fourth, the automated Growth Direct System securely protects data against willful or accidental loss, damage, or unintended changes.
By maintaining accurate, complete, and intact records within their original context, Growth Direct ensures the trustworthiness of data. Plus, data reside in permanent form for the lifetime of the record, easily accessible to authorized users. This allows microbiologists to analyze trends over time for timely, cost-saving decision-making.
Data and sample security
Most data and sample security issues result from manual operations lacking the necessary processes and controls.
The Growth Direct system streamlines processes and maximizes control. It also helps securely protect samples.
Traditionally, QC personnel have had to walk samples across massive pharmaceutical campuses and suit up before entering clean rooms. Growth Direct can be located at the production site, and samples can be taken directly off the manufacturing line. This enhances both security and efficiency.
Once loaded into Growth Direct, uniquely labeled cassettes are protected by an authorized access system with an audit trail.
User-friendly, password-protected 21 CFR PART 11-compliant software features an intuitive interface to produce an easy-to-follow audit trail. Only authorized users can print or transmit data, and these actions are tracked and reported. Plus, automation ensures the comprehensiveness of data and timeliness of reporting.
Data integrity and security are critical to effective, efficient, compliant microbial QC. Learn more about how automated microbial QC with the Growth Direct System helps you maximize both.