Drug compounding is a process by which commercial medications are prepared in unique formulations for a specific patient or set of patients. Compounding is a valuable service that can help meet the unique needs of specific patient segments experiencing challenges with the standard FDA-approved form they need for their health.
The role of 503B compounders, also called Outsourcing Facilities, is to reformulate drugs into appropriate strengths, dosages, and formats for use in healthcare settings such as hospitals, clinics, or physician's offices and help address drug shortages. Outsourcing Facilities can produce large batches of compound sterile preparations (CSPs) without product preregistration and ship across state lines.
Patients greatly benefit from these compounded medications.
Increase in Regulation = Increase in Inspection and Enforcement
Increases in regulation
However, despite their advantages, the FDA highlights that compounded medicines aren't FDA approved for safety or efficacy though are still formally regulated at the state level.
In late 2012 a compounder, NECC, shipped contaminated epidural spinal steroid injections that tragically resulted in the deaths of 70 people. Congress responded quickly, passing the Drug Quality and Security Act (DQSA) creating the 503A and 503B Outsourcing Facility designations in the FD&C Act. In addition to registering with each state board of pharmacy and DEA, 503B facilities are now required to comply with cGMP sterile manufacturing guidelines and to be inspected and regulated by the FDA. These new regulations also require 503Bs to significantly increase the amount of environmental monitoring (EM) testing performed.
Since the watershed incident, many updates and guidelines have been published and or updated. The past 8 months have seen many updates, with many of these changes being finalized in 2019. A partial list of the documents being finalized is below.
The samples were taken from close to the manufacturing floor entrances, from un-controlled areas to ensure high enough cell counts to get suitable data sizes. At each site 3 surface contact plates and 1 active air sample (1m3 SAS 180) were taken making 12 points for each day. At each point 3 replicate samples were taken, 1 cassette for each incubation temperature tested. For experiment 2 an SDA sample was also taken at the same time. Samples were taken in Dec-Jan and then 9 months later in Aug-Sept to cover seasonal variation. All samples were incubated on the Growth Direct™. Following incubation, the data series for each cassette was recovered to determine the cfu counts. For experiment 2, three analysts also counted the number of mold colonies present on each cassette and the mean value was calculated for each sample.
Table 1: Partial list of recent guidance publications and key upcoming dates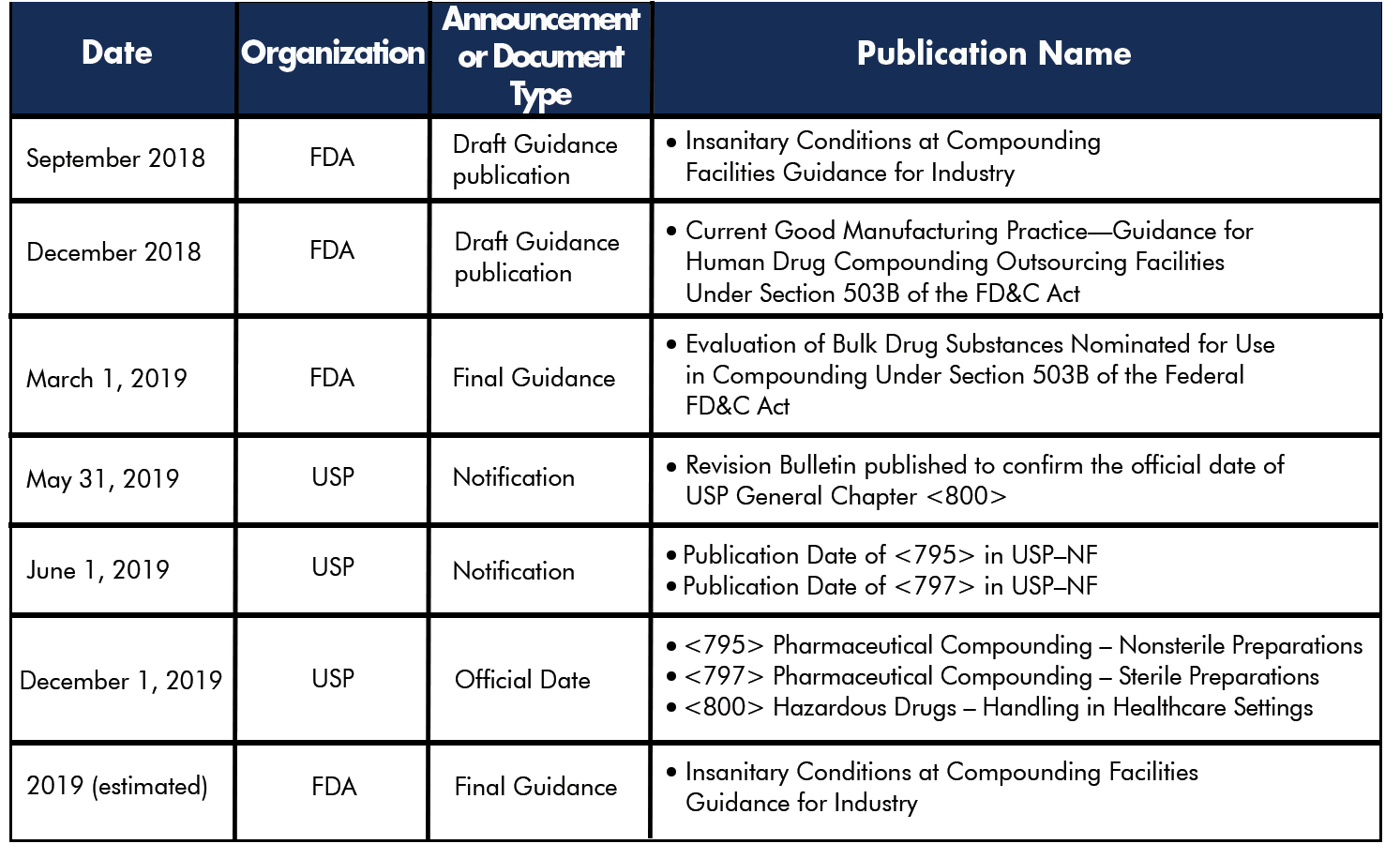 Increases in enforcement
In 2018, the FDA inspected over 140 compounding facilities – both 503A and 503B - resulting in:
>80 483s
>30 warning letters
>25 state referral letters
Inadequate or improper Environmental Monitoring (EM) was highlighted in 2014 as the most frequently observed issue. One of the reasons for the emphasis on EM is the high volume of Insanitary Conditions that the FDA has observed in the production of sterile drugs, under USP <797>. The draft "Insanitary Conditions at Compounding Facilities Guidance for Industry." details a clear list of conditions considered "particularly serious," recommending a strong and immediate response from the compounder.
Therefore, the importance of conducting routine environmental monitoring with a strong plan for both managing the program and performing complete investigations for excursions should be a key goal for every compounder.
From the enforcement perspective, the first half of the year has already been active. The number of 483s and warning letters continues to climb. Most recently, in late May two 503B compounders received consent decrees in the same week.
Between multiple guideline changes, and the significant increase in inspection and enforcement, how can compounders continue to support critical patient needs?

De-Risk your Business: Potential Solutions to Compliance Challenges
The overarching goal for compounders is to prove that they are in control of their manufacturing and quality control process, demonstrating that they can de-risk their business overall.
The optimal way to enhance compliance programs is with improved operating procedures, confirming those results with expanded and appropriate Quality Control testing and data integrity systems.
With CGMP considerations, 503B companies require a higher volume of EM testing due to many small batches for different drugs and should investigate the use of automated rapid methods where possible to manage the volume and resource of expanded EM testing.
5 recommendations to improve compliance for 503b compounders are:
1) Establish an appropriate and sound environmental monitoring (EM) program for all aseptic operations, including surfaces and air quality
2) Expand existing EM programs with appropriate tracking, trending, reporting of results and appropriate reactions to OOS results.
3) Implement fully-automated, consistent QC solutions where possible to reduce variability
4) Develop a clearly defined data integrity program to follow ALCOA/ALCOA+ principles
5) Strengthen the operational and QC lab capabilities to train and execute the new procedures
Conclusion
503B compounding companies must quickly adapt to comply with expanding quality guidance standards and prepare for more frequent and thorough inspections, to include their EM programs.
Non-compliance is a costly proposition. Removing risk and variability in both operations and the QC lab enhances compliance. Upgrading current operations with an enhanced EM program both minimizes the risk of contamination and insanitary conditions, and enhances compliance with the regulations. With the strong and joint support from compounding companies and the FDA, ultimately, the patient wins.
---
To learn how Rapid Micro Biosystems can help your company, please contact Sales.
To learn more about Growth Direct™, please visit here.