At Rapid Micro Biosystems, we understand the power of technology. When properly harnessed, it helps increase the efficiency of your facility to produce greater productivity and profitability. That's why we launched the innovative Remote Monitoring System (RMS) for Growth Direct™.
RMS provides technologically advanced tools to remotely monitor and maintain your Growth Direct System so we can ensure optimum system performance.
RMS accomplishes all this remotely and securely. You can feel confident that your information will never be accessed or compromised by anyone.
RMS delivers powerful capabilities
The future of predictive maintenance
RMS is able to analyze system performance data to recognize trends in order to predict and prevent errors before they occur. This allows preventative maintenance visits to be scheduled to avoid interruption of routine testing, maximizing system uptime.
Making the connection with the RMS Dashboard
An innovative web-based application that allows:
Remote training of your staff on the use of the Growth Direct interface

Viewing the operational status of the system

Viewing individual action reports for each system

Remote desktop connection for Rapid Micro Biosystems engineers or your own staff
The Remote Monitoring System enhances the Growth Direct experience by enabling maximum machine uptime, optimum machine performance, issue avoidance, and off-site instrument health monitoring and maintenance.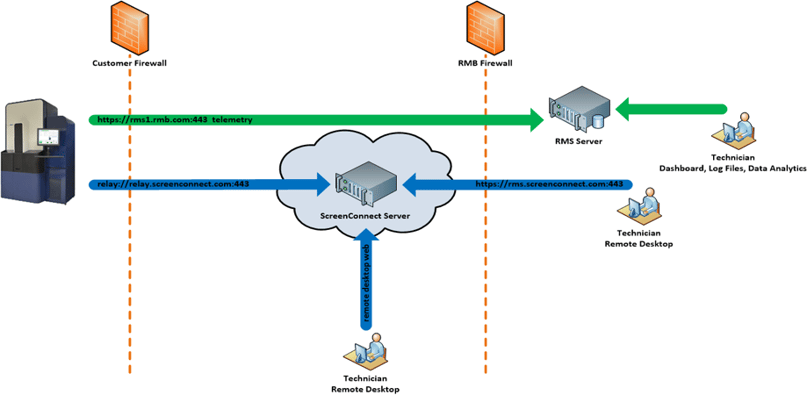 Performs all actions remotely with different access levels
You decide what level of access you grant to Rapid Micro Biosystems. There are five tiers that provide varying levels of service.
Level 0 - All capabilities disabled
Level 1 - The system will send email notifications and warnings
Level 2 - Level 1, plus system health data is sent for routine analysis
Level 3 - Level 2, plus basic system commands such as restart of a computer
Level 4 - Level 3, plus remote desktop sessions that are initiated by the customer
Designed for security and transparency
Firewall-friendly communications: RMS works with both customer and Rapid Micro Biosystems firewalls to help ensure complete security.
Validation: During the validation of the Growth Direct, the functionality and security of the RMS are verified.
Auditing: A full audit trail is available for all actions performed during connection with the RMS.
Technological innovation at its finest—and most efficient
At the end of the day, your facility's productivity and profitability are determined by your efficiency. Thanks to the innovative capabilities of the Remote Monitoring System, Growth Direct acts to resolve issues on its own, while simultaneously notifying our trained technicians about the service status of your system. All this is done—remotely, securely, quickly, and effectively—to maximize your efficiency.
Learn more about remote monitoring with RMS and Growth Direct.