Explore this customized library of resources to help your team embrace and implement innovations in the QC micro lab environment.
Recent world events have shown us the importance of running lean, nimble, fail-sale QC micro labs. But it's not always clear how to get there.
That's why the experts at Rapid Micro Biosystems created the Lab Optimization Master Series: a collection of valuable resources, including an in-depth whitepaper, podcast, infographics and more. Our goal is to help pharma leaders identify and address issues in the QC micro lab that may be slowing manufacturing down and replace them with innovative, future-ready solutions that will ensure your organization is ready for whatever comes next.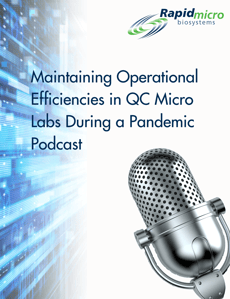 Podcast: Maintaining Operational Efficiencies in Micro Labs During a Pandemic
In this 15-minute podcast, Susan Schilling, our Director of Customer Relations, and David Jones, our Director of Technical Marketing and Government Affairs, discuss the differences between manual, automated, and compendial microbiology methods and explain how automated methods have enabled major pharmaceutical companies to maintain production during the pandemic. If your QC micro lab is considering new operational efficiencies, this podcast conversation will help you better understand how automation can support your goals.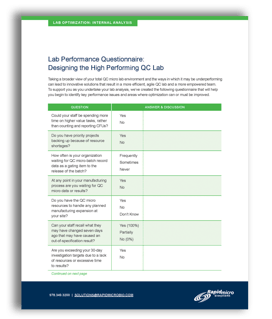 Lab Performance Questionnaire: Designing the High Performing QC Lab
This questionnaire will guide you through an internal analysis of your total QC micro lab environment, so you can assess the ways in which it may be under-performing. This will help you identify innovative solutions that can result in a more efficient, agile QC micro lab and a more empowered team. Rapid Micro Biosystem's solutions team is always available to support you as you uncover critical improvement and process opportunities.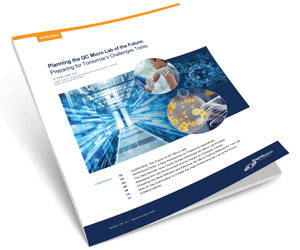 Whitepaper: Planning the QC Micro Lab of the Future: Preparing for Tomorrow's Challenges Today
In this whitepaper, author David Jones, Ph.D. explains how pharmaceutical manufacturers can create future-ready labs that use technology to overcome myriad challenges and why embracing innovation is imperative for organizations that want to remain competitive in the 21st century.




Master Series Blogposts: A collection of insights and information about the current and future state of QC micro labs
Be on the lookout for our next Master Series. Not sure you are on the list? Join our subscriber list by filling out the form to the right.

To talk with one of our experts about how Rapid Micro Biosystem can support your QC micro lab optimization, contact us here.