Everything you need to know about creating the QC micro lab of the future NOW.
Pharmaceutical manufacturers are facing greater challenges than ever before, and many are wondering how their current QC micro lab environments will keep pace in a swiftly changing marketplace. Recent world events have made it clearer that outdated lab practices are no longer enough to meet today's expectations such as unprecedented demand, amplified regulatory and safety concerns, and the astounding pace of science. But which QC testing methods are the most effective, and how can organizations create a business case for innovation?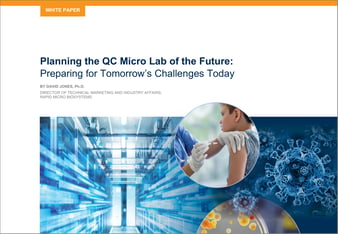 In this whitepaper, Planning the QC Micro Lab of the Future: Preparing for Tomorrow's Challenges Today, author David Jones, Ph.D. explains how pharmaceutical manufacturers can create future-ready labs that use technology to overcome myriad challenges and why embracing innovation is no longer optional for organizations that want to remain competitive in the 21st century.
Along with his insights and expertise, Jones also shares a Lab Performance Questionnaire that will help guide pharma QC leaders through the process of assessing their current environments and identifying areas in which they may be under-performing.
Ready to create your QC micro lab of the future?