Lowell, MA - May 17, 2016 – Rapid Micro Biosystems, a leading provider of automated, non-destructive, rapid microbial detection, is pleased to announce the addition of Jim Lafferty as Vice President of Quality. Jim will report directly to the CEO, Robert Spignesi.
Mr. Lafferty brings over 30 years of Quality Assurance, Quality Control and Operations experience with Capital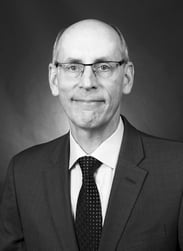 Equipment. Most recently, he held the position of Vice President of Operations and Quality at American Science & Engineering , where he successfully developed and managed the Quality Management System, implemented Lean Tools and Methodologies and significantly improved Quality, Manufacturing and Supply Chain Operations. Previously, Mr. Lafferty held multiple Quality positions at American Science & Engineering including VP, Sustaining Engineering and Quality, VP Quality, and Director, Quality. Mr. Lafferty's prior experience includes positions at Progressive Technologies, NESLAB Instruments and Lawrence Pumps Inc.
"I am delighted to have an executive of Jim's caliber and experience to join our executive team," said CEO Robert Spignesi. "His extensive background in managing Quality Operations and his leadership experience and engineering background will be instrumental in driving further success as we continue our growth."
"I am excited to step into the VP of Quality role and steer Rapid Micro Biosystems' on-going quality transformation as the company develops to become the leader in automated, rapid microbiology detection method," said Mr. Lafferty. "I look forward to ensuring that our customers experience reliable and consistent quality and service as they implement Growth Direct Systems throughout their organizations."
Jim holds a B.S. in Mechanical Engineering from Worcester Polytechnic Institute.
About Rapid Micro Biosystems
Rapid Micro Biosystems delivers the Growth Direct™ System, an automated, non-destructive rapid detection and enumeration technology based on the compendial method for microbial quality control in pharmaceutical manufacturing. The system automates and accelerates detection and enumeration in the areas of sterility testing, environmental monitoring, and bioburden testing, eliminating manual steps and analysis. The detection technology, first developed and patented by Dr. Don Straus, Ph.D., uses the natural auto-fluorescence of microbes and requires no reagents. For more information about Rapid Micro Biosystems visit
Contact:
Eugenia Kendrick
Rapid Micro Biosystems