Recently, the Microbiology Teams and Site Engagement Committee at Rapid Micro Biosystems (RMB) celebrated Microbiology Week (June 10-13). The group, consisting of team members from R&D Microbiology, Applications, and Quality Control, planned a week of informative and fun-filled activities with the goal of continuing to promote microbiology education and awareness for all employees at RMB!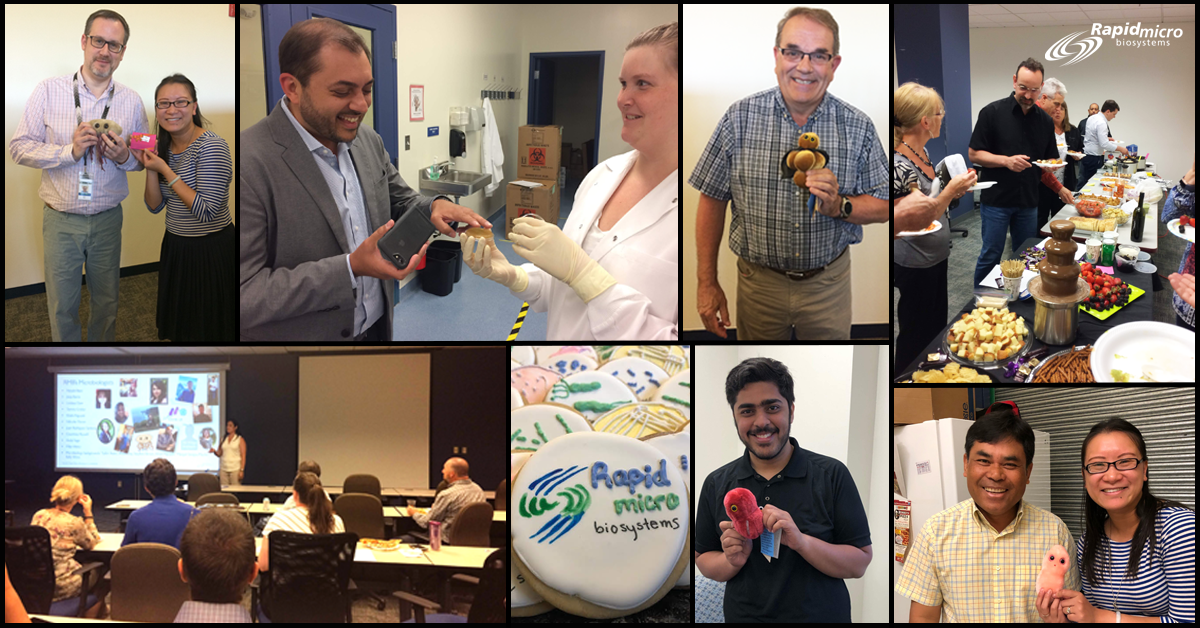 The celebration kicked off with a daily fun microbiology fact and a microbiology-themed breakfast which included a variety of yeast containing baked goods, cured meats, probiotic juices, and cultured yogurts. The microbiology team also made Amish Friendship breads, which used a yeast starter that was fed several times to create delicious baked cakes for the company. No soggy bottoms here, Mary Berry (of Great British Bake-Off fame) would be proud.
Next, the Microbiology Teams put together a series of presentations to promote microbiology awareness at RMB and relate the knowledge back to why the Growth Direct™ is an asset to pharmaceutical companies. The presentation topics included:
1) Microbiology 101
2) How microbes are involved in wine and beer making
3) What types of environments microbes live in
4) Genetically-modified organisms and the benefits of microbes to humankind
5) Laboratory safety and microbes at RMB
6) The microbes that harm humanity
7) How microbes (where they live, how they grow) relate to the Growth Direct.
Attendees paid full attention because there was a quiz later in the week and a prize!
Mid-week, the Microbiology Teams planned fun office games. First, a riveting report of the worst diseases to ever plague humankind was sent for some light reading. Next, several stuffed Giant Microbes (not sponsored) were hidden all over the company for employees to find and claim a prize. The Microbiology Team also gave an opportunity for others to culture organisms from their phone, mouth, fingers, etc. Almost all colonies seen on agar plates were naturally occurring skin flora, don't worry!
Microbiology Week ended with a Micro Tapas event, where RMB employees sampled foods and beverages made using microbes! On the savory side, foods included a variety of cultured cheeses (Swiss, Blue, Brie), cured meats from around the world, pretzels and beer cheese dip, kimchi fried rice (fermented cabbage and radishes), buffalo chicken dip (Tabasco sauce, blue cheese), brats and sauerkraut, samosas and yogurt dip, fermented rice, and egg rolls. On the sweet side, there were nata de coco, chocolates, and even a chocolate fountain! For beverages, there were yogurt drinks, homemade wines and kombucha (kindly donated by RMB employees), and a large variety of craft beers brewed locally and around the world, carefully curated by our RMB beer enthusiasts. What an amazing and delicious way to end the celebration!
A big thanks to all those that participated and to the leadership team for sponsoring such an important and fun event! Remember, microbes are EVERYWHERE!!