During this year's European Directorate for the Quality of Healthcare and Medicines (EDQM) meeting, Rapid Micro Biosystems (RMB) presented its latest poster: Simpler RMM Validation for Environmental Monitoring Using Current USP Ch <1223> Requirements.
The poster was created in response to the question asked by many pharmaceutical microbiologists and regulators as to whether the use of an automated colony counter should be considered an alternative microbiological test method and subject to full method validation. The Growth Direct™ automates the incubation and reading of a traditional microbiological method, so it may be subject to a more limited verification.
The poster makes a case for method verification and not an alternative method validation strategy - a position justified by the USP40/NF35 General Informational Chapter <1223> Validation of New Microbiological Testing Methods and industry practice, as found in the 2013 PDA Technical Report 33 (Revised) Evaluation, Validation and Implementation of Alternative and Rapid Microbial Methods.
The poster highlights regulatory and compendial guidance for the validation of alternative microbiological test methods. Specifically, USP40/NF35 General Notices 6 Testing Practices and Procedures provides guidance on the use of automated and alternative test methods. 6.20 Automated Procedures states: "Automated and manual procedures employing the same basic chemistry are considered equivalent."
USP40/NF35 <1223> also supports the view that Growth Direct is not an alternative method requiring method validation.
Recommendations for method verification and suitability tests
The RMB poster provides recommendations for the method verification of the Growth Direct. Figure 1 verifies the enumeration accuracy of the Growth Direct and vision algorithms for the environmental monitoring (EM) application using organisms defined in the USP and also found in the environment. Standard growth promotion studies verify the nutritive properties of the media during incoming QC.
Figure 1. Verification of Enumeration Accuracy by Growth Direct Software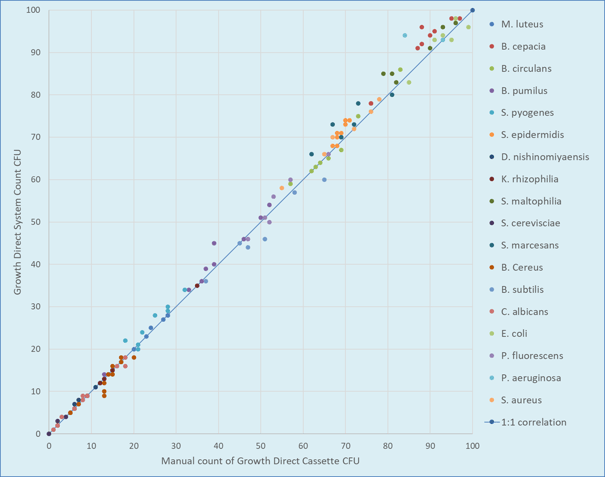 The poster also recommends that method suitability testing for EM be met prior to routine testing. This requirement is independent of method validation or verification.
The conclusions
Following the USP guidance chapters, Growth Direct meets the conditions stated in USP <1223> and the industry practice document, PDA Technical Report No. 33, in that it is an automated system for the incubation and enumeration of the compendial microbial plate count method. As such, the system only requires verification of the counting method and method suitability.
The verification of the system colony enumeration and the method suitability for Growth Direct environmental sample testing were performed successfully.
Click here to read Simpler RMM Validation for Environmental Monitoring Using Current USP Ch <1223> Requirements
Learn more about how simpler RMM validation for EM with the Growth Direct System helps improve the efficiency and productivity of your facility.