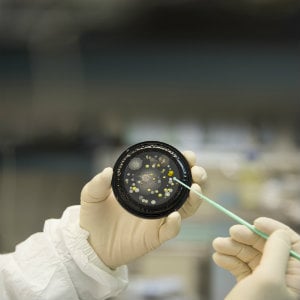 Rapid Micro Biosystems will be exhibiting at the 11th Annual PDA Global Conference on Pharmaceutical Microbiology at the Regency Crystal City in Arlington, Virginia on October 24-25, 2016. The conference meets the unique needs of pharmaceutical microbiologists and interdisciplinary scientists who are involved in pharmaceutical manufacturing and regulation. It will also address pressing challenges to product quality and patient safety in today's global market. The program will bring together industry, academic, and regulatory professionals at all levels to share best practices and discuss the development of standards and integration of innovative technologies.
Stop by our booth #104 at the PDA, where our experts will be showcasing the Growth Direct ™ - state of the art rapid microbial detection technology.
Empower your lab with the power of automation.
Your manufacturing facilities face ever-increasing demand for greater production capacity. This drives up test volume in your microbiology QC lab, where you must achieve reliable results and regulatory-compliant documentation, all with limited resources.
Relying on current compendial testing methods just isn't a viable option. Compendial testing is labor-intensive, produces slow results prone to human error, and is vulnerable to tampering and poor compliance.
The result: massive inefficiency, increased risk of errors, and lost time, which can be costly to your brand and your bottom line.
Now, with a breakthrough in automation, you can empower your lab to be more efficient than ever before.
On Monday, October 24, Rapid Micro Biosystems will be hosting a special dinner. We are delighted to invite our customers and PDA conference attendees interested in learning more about Rapid Micro Biosystems to attend and enjoy an outstanding menu offering and selected wines.
You will have a chance to speak with the Rapid Micro Biosystems' Leadership Team and customers who are leveraging the industry's most advanced rapid microbial detection system in their facilities.
Space is limited please reach out by email to Eugenia Kendrick to confirm your dinner registration.
Integrating an Automated, Rapid Method with Laboratory Information Management Systems