Rapid Micro Biosystems will be exhibiting at the 12th Annual PDA Global Conference on Pharmaceutical Microbiology at the Marriott Hotel & Conference Center in Bethesda, MD on October 16-17, 2017.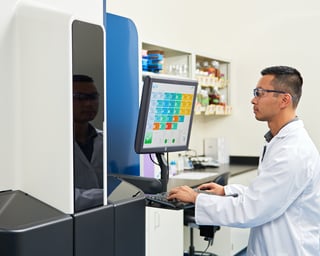 The conference meets the unique needs of pharmaceutical microbiologists and interdisciplinary scientists who are involved in pharmaceutical manufacturing and regulation. It will feature topics which will solve highly complex problems and develop novel, compliant, and robust solutions to ensure products are of the highest quality for patients. The program will bring together industry, academic, and regulatory professionals at all levels to share best practices and discuss the current trends in the field of pharmaceutical microbiology.
Stop by our booth #112 at the PDA to see a demo of the Growth Direct™ - our state of the art rapid microbial detection system - and learn how it optimizes data integrity and simplifies validation.
Monday and Tuesday 9:45 a.m. Growth Direct™ Instrument Demo
Monday 3:45 p.m. Optimizing Data Integrity with Growth Direct™
Tuesday 3:45 p.m. Simplified Validation with Growth Direct™
Additionally, you will get to hear from users of the Growth Direct™ by attending their talks and poster presentations:
Monday and Tuesday - Exhibit Hall
Poster Presentation "Implementation of the Growth Direct™ System: Driving for Greater Accuracy, Speed, and Efficiency in Microbial Enumeration" -

Ashley Durusky, QC Supervisor, Biogen
Monday 10:15 a.m. – 10:45 a.m. - Plenary Session
Case Study "Environmental Mold Isolation in a Controlled Manufacturing Facility" -

Leslie Falco, Quality Assurance Microbial Control Lead, Pfizer Inc.
Monday 2:00 p.m. – 2:30 p.m. - Plenary Session
Presentation "Demonstrating Non-Inferiority for a Rapid, Automated Environmental Monitoring Technology Using a Single-Tiered Incubation Scheme" -

Laure Singer, Senior Associate, Quality Assurance, Pfizer Inc.
On Monday, October 16th, Rapid Micro Biosystems will be hosting a special dinner. We are delighted to invite our customers and PDA conference attendees interested in learning more about rapid microbial detection methods to attend and enjoy an outstanding menu offering and selected wines.
You will have a chance to speak with the Rapid Micro Biosystems' Leadership Team and customers who are leveraging the industry's most advanced rapid microbial detection system in their facilities.
Space is limited. Please reach out by email to Eugenia Kendrick to confirm your dinner registration.