Rapid Micro Biosystems (RMB) is excited to share that SCA Pharmaceuticals has officially gone live with their two Growth Direct™ Instruments in Windsor, CT!
SCA is a growing 503b sterile compounding facility, producing sterile pharmaceuticals customized for hospitals and healthcare facilities across the US for use before, during, and after surgery. SCA believes in implementing pharma quality control practices to ensure the safety of their products, and RMB's Growth Direct is a big part of that. To ensure control of microbial contamination of their facility and products, SCA currently generates 800 EM tests per day. As they continue to grow, it is expected that this number will increase to 2,400 EM tests per day by end of 2020.
Below is a picture of Erin, one of SCA's 20 microbiology analysts, starting the documentation prior to counting all those plates. The plates arrived in the lab that morning at 9:30 am and represents only a small fraction of what this lab will process in one day. Thankfully, the Growth Direct™ is allowing SCA to better manage this work load and release product quicker!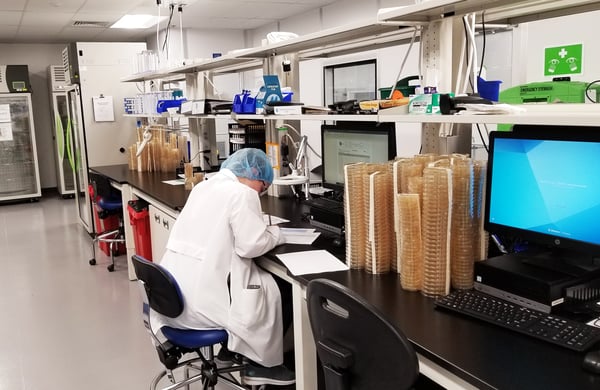 ---
To learn how Rapid Micro Biosystems can help your company, please contact Sales.
To learn more about Growth Direct™, please visit here.