Data Integrity Compliance through Implementation of a Automated, Rapid, Microbiological Method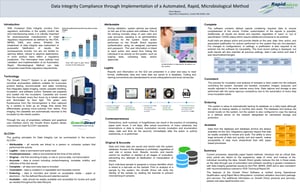 It is critically important for QC labs and pharma manufacturers to meet Data Integrity regulatory requirements as defined by the FDA, MHRA, EMA, and others.
This poster presented by Kham Nguyen, Director of Validation at Rapid Micro Biosystems outlines how an automated rapid, microbiological method can help your team avoid warning letters, refusal to approve applications, or even product bans.
Fill out the form to get instant access to this poster.