CGMP Data Integrity Using PDA TR80 and ALCOA ALCOA+ Infographic
Data integrity issues were cited in 57% of all 2018 FDA warning letters and 2019 will likely be higher.
Are there tools to help you prepare your QC lab data framework to handle this increased scrutiny? The answer is a firm two-step Yes!
In August 2018 PDA released Technical Report 80 (TR 80): Data Integrity in Laboratory Systems. TR80 can be a new tool in your ALCOA/ALCOA+ toolkit, strengthening your current manual and electronic data support protocols.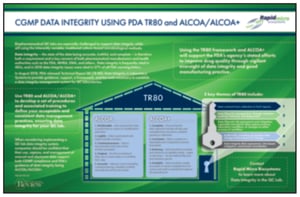 Download today for 5 key elements of TR 80 and its integration with ALCOA/ALCOA+ structure. Then see how RMB can help you with Part 2.
Fill out the form to get instant access to this infographic.