Getting Lean–Benefits of Automation in the Microbiology Lab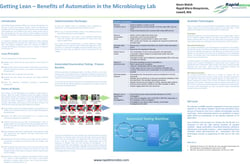 Rapid microbiology methods (RMM) have evolved dramatically over the last 15 years, from being an esoteric interest to becoming an accepted part of the pharmaceutical quality control (QC) laboratory.
New technologies have enabled the use of RMM to take hold in all key testing areas of the microbiology QC lab, with systems readily available to perform microbial enumeration, microbial identification, and testing for TOC and endotoxin.
This study looks at how automation and new technologies provide an opportunity to take Lean to the next level in your pharmaceutical quality control lab.
Fill out the form to get instant access to this poster.