[White Paper] Planning the QC Micro Lab of the Future: Preparing for Tomorrow's Challenges Today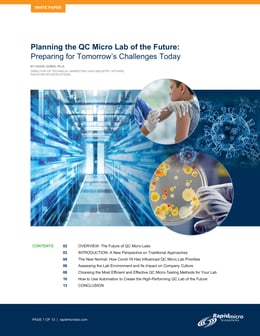 Pharmaceutical manufacturers are facing greater challenges than ever before, and many are wondering how their current QC micro lab environments will keep pace in a swiftly changing marketplace. Recent world events have made it clearer that outdated lab practices are no longer enough to meet today's expectations such as unprecedented demand, amplified regulatory and safety concerns, and the astounding pace of science. But which QC testing methods are the most effective, and how can organizations create a business case for innovation?
This white paper has everything you need to know about creating the QC micro lab of the future NOW.

Fill out the form to get your copy today.