Biogen presented a poster, Implementation of the Growth Direct® System: Driving for Greater Accuracy, Speed, and Efficiency in Microbial Enumeration, during the 12th Annual Parenteral Drug Association (PDA) Conference on Pharmaceutical Microbiology.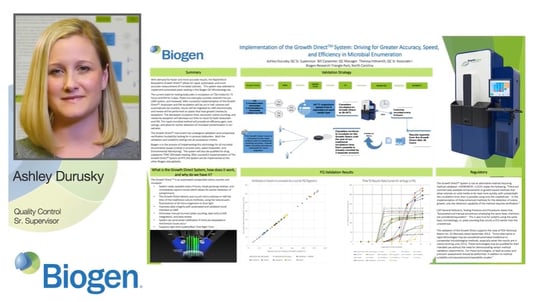 The poster describes the process Biogen followed to implement the Growth Direct system for automated plate reading in their QC microbiology lab.
Biogen's compendial bioburden testing is incubation on TSA media for 72 hours and environmental monitoring (EM) for five days. Plates are manually counted, entered into their LIMS system, and reviewed.
The goal is for Growth Direct to be Biogen's primary colony-counting method for all plate-based assays globally.
Fill out the form to get instant access to this video.