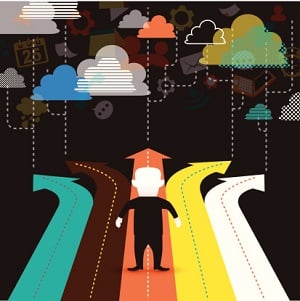 While many pharmaceutical companies have embraced lean initiatives in manufacturing, they haven't historically applied lean principles to quality control labs – until now. Given today's greater competition, slimmer margins and pressures to bring products to market faster than ever before, pharmaceutical manufacturers throughout the world are now automating and streamlining traditionally manual microbial quality control testing processes. One of the greatest opportunities for improvement is microbial enumeration, and the century-old manual method is finally being updated with rapid micro methods (RMM).
Not all RMM are alike, however, and finding a method that suits the particular needs of a company can be a difficult task. Some technologies offer rapid results but can destroy the sample, making investigations more difficult, while others are similar to the traditional test, but more rapid and automated without destroying the sample. If you're looking to include a RMM into your company's QC lab, here are a few factors you'll need to consider as you narrow your search.
Beginning Your Search
As you begin your search for the ideal automated method for your lab, you'll want to consider the ways different technologies fit into your company's budget, needs, business model, regulatory requirements and more. Here are a few questions you'll want to consider:
What is your main reason for implementing an RMM? Is your primary goal cutting costs, streamlining a workflow? Improving product quality or a combination thereof?
What systems are currently available, and which have been vetted by other companies?
Do you understand the validation requirements of the different methods available? What parameters will be measured in the evaluation.
Have you performed a simple ROI calculation to determine near and long term return?
Does your product have unique attributes that could prevent you from implementing certain technologies?
Using a Decision Matrix
The questions above should help determine the optimal technologies that should be part of your search. One of the best ways to narrow your choices from there is to use a decision matrix. Create a list of parameters that are most important, and assign each method a score for each parameter. You might use a 1 through 5 scale to rate each one for each metric. Here's an example of what your matrix might look like: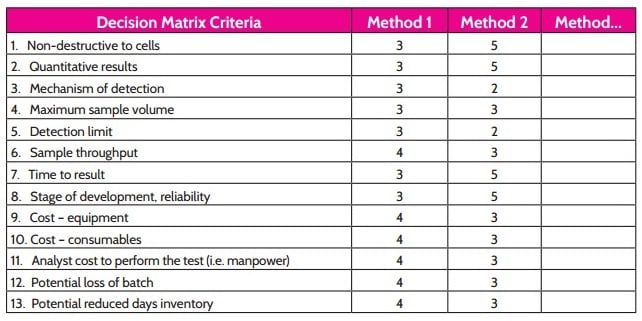 The highest total scores may give you a good idea of the systems best suited to your lab, but to make the choice easier still, you can divide your parameters into two categories to be plotted on a line graph. In this example – and likely for your lab, as well – we've found it useful to categorize the matrix criteria as either "technology" or "ROI" metrics. The plot below shows how a few example systems match up according to these broader categories.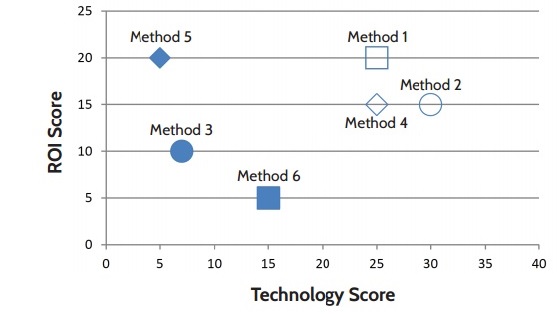 Closer Evaluation
Once you've answered your initial questions and built a decision matrix, you'll likely have narrowed your search to just two or three potential technologies. To drive to a final decision, you'll want to perform more in-depth analysis. Below are some points that should be included as part of the more detailed investigation.
What type of technology does the RMM involve? Does the new system involve considered an alternative technology, or is it an automated compendial method? Does the type of product being tested interfere with the technology? Does the method report in colony forming units (CFU) or some other unit that must be converted/related to CFUs during validation?
What testing types does the method support? Some technologies are specific for a certain application, which means technicians will need cross training as they move from one application to another. The optimal situation is a single test for all current microbial tests – air, surface, personnel and water testing, sterility testing and environmental monitoring – to minimize the need for additional training for multiple systems.
What have regulators said about the method? While regulatory bodies do not "approve" technologies, the agencies work closely with manufacturers in the validation of new methods. Generally, regulatory agencies have been open to the use of new, innovative technologies. It is important to understand the position of regulators in your jurisdiction with regard to rapid methods? What will they expect as part of the validation of a particular method?
What is the time to result of the method? Even if speed isn't your main concern, any automated RMM should provide faster results than manual colony counting. Clearly understanding the way the method works is important. Is there a single read at a particular time point? Does the system do regular sample reads?
Whether your main goal in implementing an RMM is financial, process-related or something else entirely,you'll want to determine the ROI and other bottom-line benefits of the system you choose. To learn more about cost-effectiveness of automated, growth-based RMM, download our free guide to its economic benefits today!